Sodium Bromate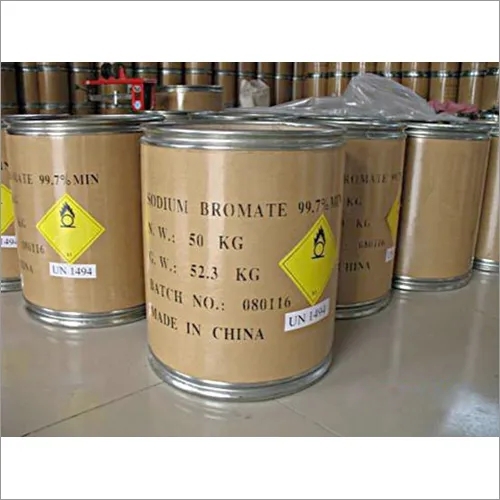 Sodium Bromate
Product Description
Sodium Bromate
is most commonly utilized in dyeing industry and is known to have chemical formula NaBrO3 with molar mass of 150.892 g/mol. It is also considered to be a strong oxidant and finds application as solvent in gold mines. This compound is sodium salt of bromic acid and can also serve as hair-permagent. It appears as colorless to white colored solid with odorless nature and density of 3.339 g/cm3.
Sodium Bromate
has melting & boiling points of 381 & 1390 degrees Celsius respectively and shows solubility in water & ammonia whereas insolubility in ethanol.
Molecular Formula: NaBrO3

CAS NO.: 7789-38-0
UN NO.: 1494
Use: This product is a strong oxidant, mainly used as printing and dyeing auxiliary, hair permanent, chemical agent, or gold solvent in gold mines when used with sodium bromide.
Package: 25kg or 50kg each,packed by cardboard buckets lined with polyethylene bag inside
Capacity: 5000MT
Storage and Transportation: Handle with care,keep air-tight and dry.
Quality Standard

Item

Index







High-grade

Super-grade

First-grade

Content(calculated with NaBrO3) %

99.7

99.5

99.0

PH value(5w/v)

6.5+1

6.5+1

6.5+1

Light absorbency(20% solution) %

0.12

----

----

Water %


0.1

0.1

0.2

Bromide(calculated with NaBr) %


0.05

0.05

0.1

Sulphate(calculated with SO4 %


0.01

0.01

0.02

Iron(Fe) %


0.0005

----

----

Arsenic(As) %


0.0002

0.0002

0.0003

Chloride and chlorate(with C1) %


0.05

0.03

0.1

Heavy metal (calculated with Pb) %


0.0005

0.0005

0.001



Trade Information
100-5000 Per Month

20 Days