CHA (Cyclohexylamine)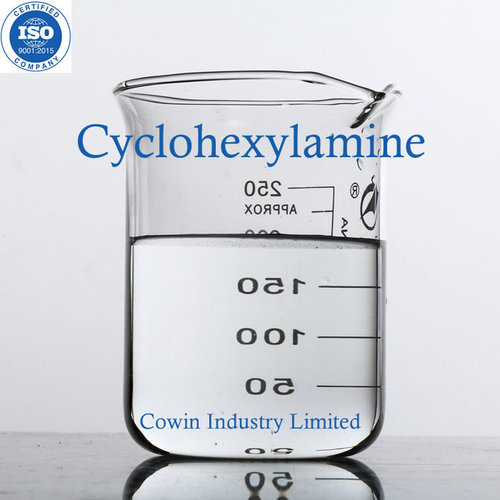 CHA (Cyclohexylamine)
Product Description
CHA (Cyclohexylamine)
Product Name cyclohexylamine
Other Name CHA
CAS No 108-91-8
EINECS No 203-629-0
Molecular Formula C6H13N
Molecular Weight 99.17 gmol1
Density 0.8647 g/cm3
Aniline(%) 0.15
Purity (%) 99.0
Moisture (%) 0.5
Appearance Clear colorless liquid
Storage Fireproof.
Separated from acids,oxidants,aluminium;
copper,zinc,etc.
Well closed.
Cyclohexylamine is an organic compound, belonging to the aliphatic amine class. It is a colorless liquid, although, like many amines, samples are often colored due to contaminants. It has a fishy odor and is miscible with water. Like other amines, it is a weak base, compared to strong bases such as NaOH, but it is a stronger base than its aromatic analog, aniline.
It is a useful intermediate in the production of many other organic compounds. It is a metabolite of cyclamate.
Cyclohexylamine application area,the production of:
---Sodium cyclamate
---antioxidants in rubber and plastics
---vulcanization accelerators for rubber
---corrosion inhibitors in steam pipes and boilers
---agrochemicals
---textile chemicals
---catalysts for flexible polyurethane foams